100 Day Returns Policy
Author: Wayne Shelley


WE HAVE A 100% SATISFACTION POLICY BACKED UP WITH AN INDUSTRY LEADING 100 DAY MONEY BACK RETURN GUARANTEE.

If you are not happy with your product for ANY reason at all you can return it to us for a full refund within 100 days.
Why do we offer this to you ?
We take extra care making sure the images we use match the item 100% - If the manufacturers image is slightly different, then we take the time and effort to take our own professional photos, process them, and make sure what you see is what you get. Other sellers even "borrow" our images to sell their own stock. Very flattering!
When we list an item in store, we carefully measure, weigh, and as accurately as we can describe the item for you. When you take delivery of your toy, it will exactly match what we wrote. We never use manufacturers details, as they can vary between shipments.
As much as possible, we check each new shipment of toys, to make sure there are no big differences to previous shipments of the same items. We apologise if we do miss some tiny change, it's not always possible to catch everything with so many different toys.
We know that sometimes, for whatever reason, you just don't like the toys, even though there is nothing wrong with them. If you change your mind about the item, we are happy to refund less postage costs all toys returned in original packaging with tags attached within 100 days.
As per Queensland fair trading laws, you are entitled to a full refund including return postage costs if :-
The goods are faulty
The item is wrongly described
The goods are vastly different from the sample shown to you on the website.
WHEN do items need to be returned by?
For change of mind, you can return your items anytime within our generous 100 day period of the sale. The 100 days also includes any international customers. Plenty of time to see if you really like it.
For genuine product issues, faults etc, the toys need to be returned within the statuatory 14 days as per Australian law. We are of course very flexible with our international customers, and will work with you closely to solve any issues.
WHERE do items need to be returned ?
Please return all or any items to:-

Tagnbrag Pty Ltd
PO BOX 3380
Helensvale Town Centre
Queensland 4212
Australia
How do you return the toys?

Please contact us first so that we know its on the way back, and to make sure the warehouse staff are aware of it. Please include a note with the original order number with the toy. Then please send any returned items to the address above. We would recommend a trackable means of shipment for your protection.

SHIPPING for returns?

We always pay return shipping if an item is faulty, wrongly described or are different to the images on the website. If you change your mind, then you will be required to pay return postage. Please make sure you contact us if there is an issue with the actual product. We will require a photo or two as evidence - that's fair.
Did you know, that if you pay using Paypal, you may be eligible for FREE RETURNS ? Click the link below to find out.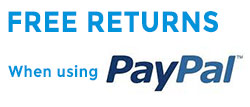 CREDIT for returns?

Credits will be as refunds or exchange. Refunds on faulty product will also include the return postage for you. We would never let you be out of pocket for any genuine issues (this happens so rarely, that we can't think of the last time we had to pay). We will process your refunds or exchanges the same day as the returned item lands here at the offices. That's a promise.

The following information is for our European Union Customers:-

Company Details
Company name:
Tagnbrag Pty Ltd
Company representative:
Wayne Shelley
Address:
P.O Box 3380 Helensvale Town Centre, QLD, 4212, Australia
Phone:
+61413010590
Fax:
+61755800631
Email:
sales@stuffedwithplushtoys.com
Trade registration number:
44605466064
Value Added Tax ID number:
N/A
Return policy:- Sie können Ihre Vertragserklärung innerhalb von 100 Tagen / 1 Monat ohne Angabe von Gründen in Textform (z. B. Brief, Fax, E-Mail) oder – wenn Ihnen die Sache vor Fristablauf überlassen wird – auch durch Rücksendung der Sache widerrufen. Die Frist beginnt nach Erhalt dieser Belehrung in Textform, jedoch nicht vor Eingang der Ware beim Empfänger (bei der wiederkehrenden Lieferung gleichartiger Waren nicht vor Eingang der ersten Teillieferung) und auch nicht vor Erfüllung unserer Informationspflichten gemäß Artikel 246 § 2 in Verbindung mit § 1 Absatz. 1 und 2 EGBGB sowie unserer Pflichten gemäß § 312g Absatz. 1 Satz 1 BGB in Verbindung mit Artikel 246 § 3 EGBGB. Zur Wahrung der Widerrufsfrist genügt die rechtzeitige Absendung des Widerrufs oder der Sache.

Der Widerruf ist zu richten an:
TagnBrag Pty Ltd
Wayne Shelley
P.O Box 3380 Helensvale Town Centre, QLD, 4212, Australia
sales@stuffedwithplushtoys.com
Fax: +61755800631

Widerrufsfolgen
Im Falle eines wirksamen Widerrufs sind die beiderseits empfangenen Leistungen zurückzugewähren und ggf. gezogene Nutzungen (z. B. Zinsen) herauszugeben. Können Sie uns die empfangene Leistung sowie Nutzungen (z.B. Gebrauchsvorteile) nicht oder teilweise nicht oder nur in verschlechtertem Zustand zurückgewähren beziehungsweise herausgeben, müssen Sie uns insoweit Wertersatz leisten. Für eine durch die bestimmungsgemäße Ingebrauchnahme der Sache entstandene Verschlechterung müssen Sie keinen Wertersatz leisten. Wertersatz für gezogene Nutzungen müssen Sie nur leisten, soweit Sie die Ware in einer Art und Weise genutzt haben, die über die Prüfung der Eigenschaften und der Funktionsweise hinausgeht. Unter "Prüfung der Eigenschaften und der Funktionsweise" versteht man das Testen und Ausprobieren der jeweiligen Ware, wie es etwa im Ladengeschäft möglich und üblich ist. Paketversandfähige Sachen sind auf unsere Gefahr zurückzusenden.
Option A: Sie haben die regelmäßigen Kosten der Rücksendung zu tragen, wenn die gelieferte Ware der bestellten entspricht und wenn der Preis der zurückzusendenden Sache einen Betrag von 40 Euro nicht übersteigt oder wenn Sie bei einem höheren Preis der Sache zum Zeitpunkt des Widerrufs noch nicht die Gegenleistung oder eine vertraglich vereinbarte Teilzahlung erbracht haben. Anderenfalls ist die Rücksendung für Sie kostenfrei.

Ende der Widerrufsbelehrung