Custom Made Stuffed Animals & Plush Toys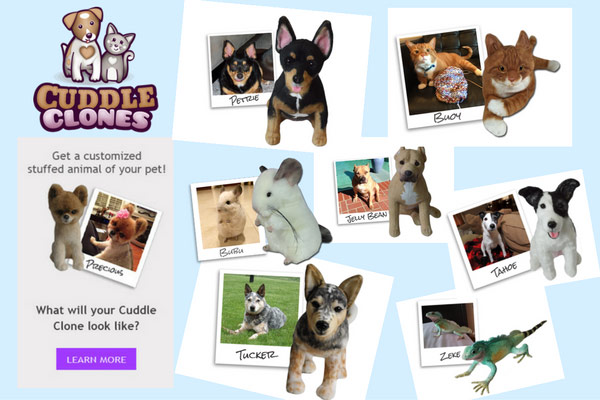 How would you like your very own custom made plush toy or stuffed animal ?
Over the years in the business of selling plush toys and realistic stuffed animals, we have had requests from literally hundreds of people to make a one off plush toy, that looks exactly like their own pets. These much loved fur babies may have passed away, or, in some circumstances, the poor owners have had to be put into care, suffering dementia etc, and cannot have their real pets with them anymore. A realistic cuddly plush or stuffed animal thats identical to their own, has been proven to help in therapy.
All of these circumstances are terrible to hear about, and now we can actually help you.
We have now partnered with a fantastic company in the United States called, CUDDLE CLONES.
It's probably best left to their wonderful CEO Jennifer to explain how they can make a stuffed toy replica for you.
Please take a minute to watch the short video.
These custom critters are all hand made, in America, by trained and very skilled artists. They are obviously going to be more expensive than off the shelf big brand mass produced stuffed toys made in China. But let's face it, you will be the only person on the planet with this toy!
In partnership with our friends Cuddle Clones, we are offering a 10% discount on your order. Use the code ccunique at checkout on the Cuddle Clones website when finalising your order and the discount is applied automatically for you.

Cuddle Clones have a whole host of different products on their cool website. They are also introducing a range of custom plush slippers of your pet. Would you wear your much loved pet on your feet ? Crazy, but we bet they will be popular!
Introducing CUDDLE CLONES SLIPPERS - These are just the BEST thing we have seen on the Internet this year!