Notify me when back in stock
Description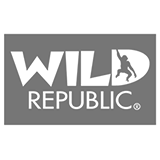 WILD REPUBLIC - CUDDLEKINS - FLYING FOX / FRUIT BAT STUFFED ANIMAL
From the Cuddlekins (Wild Republic) range of plush toys, this cute Flying Fox / Fruit Bat is a soft and very cuddly plush toy. This mammal is one of the largest species of bats in Australia. Its long snout, pointed ears and orange fur give a distinctive fox-like appearance.
Made in China
All new materials
Surface Washable
Suitable for ages 3+
Measures 9 inch / 23cm high and has a wing span of 29 inch / 73cm
Wild Republic are an awesome company to work with, not only do they make quality affordable stuffed animals like this one, they are closely linked with many charitable foundations worldwide dealing with not only abandoned animals in shelters, but in the housing, education and protection of kids who are less fortunate than you and I. Money from every sale of the Wild Republic stuffed animals, helps all of these causes. We are grateful that with your purchase, we are both helping Wild Republic support these initiatives.