Kaloo Plush Baby Safe Toys - Suitable from Birth
Kaloo is a very successful story in the highly competitive market of soft toys and baby items. You could in fact call Kaloo the 'Rolls Royce' of baby toys. The brand was created in 1998 by a Frenchman named Eric Panciulo, who set up his first company in 1990. Originally a toy manufacturer, he has transformed his company into a specialised one in the design and production of the very best soft toys and baby items. After only a few years, Kaloo has gained market shares and has become a well-known brand in many countries around the World. Dedication to design and quality along with awareness of the expected needs of the market are the key points of the kaloo strategy. The best quality materials are used and tested before marketing. All items are produced according to a range of compulsory safety standards. Each and EVERY item from the Kaloo range is deemed ' baby safe' for ages 0+. There is nothing to worry about when giving a kaloo toy as a gift. Stuffed With Plush Toys has the largest range of Kaloo in Australia online for sale. We apologise if items go in and out of stock, as Kaloo is very popular with our customers.
---
---
1 Related Content Found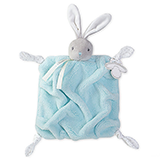 Date Posted: 1 March 2017
Kaloo Plume is back in Australia! After a couple of years abscence, Kaloo have made a whole new range of plume comforters, chubby rabbits and chubby bunnies, plume chubby bears and they all come with gorgeous gift boxes. Babies simply love Kaloo Plume. The ultrasoft cotton and microfiber provide much need comfort, and the new colour ways are simply stunning. Kaloo has always been our favourite premium baby brand, and the re-invention of Plume to the ranges available, really excites us, as its one that par...
---