Quokkas - Australian Soft Plush Toys stuffed animals
Australian Native Quokkas have become hugely popular lately thanks to the Internet Craze called 'Quokka Selfies". Any search of google will bring up heaps of funny photos of Quokkas grinning for the camera. These Aussie marsupials are quite rare and only located on Rottnest Island in Western Australia. We are please to be able to offer some soft toy examples here in our store. They are sure to make anyone smile.
---
---
1 Related Content Found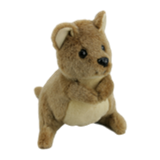 Date Posted: 6 April 2016
Have you seen one of the latest crazes on Instagram ? the #quokkaselfie Quokkas are an Australian Marsupial. They are only found on small islands off the coast of Western Australia. One place particularly, Rottnest Island was named after the small "rats" that the Dutch Mariners found there. They have a particularly smiley disposition, and now tourists who visit the island, chase the best "selfie" they can with the "happiest creatures on Earth". &...
---